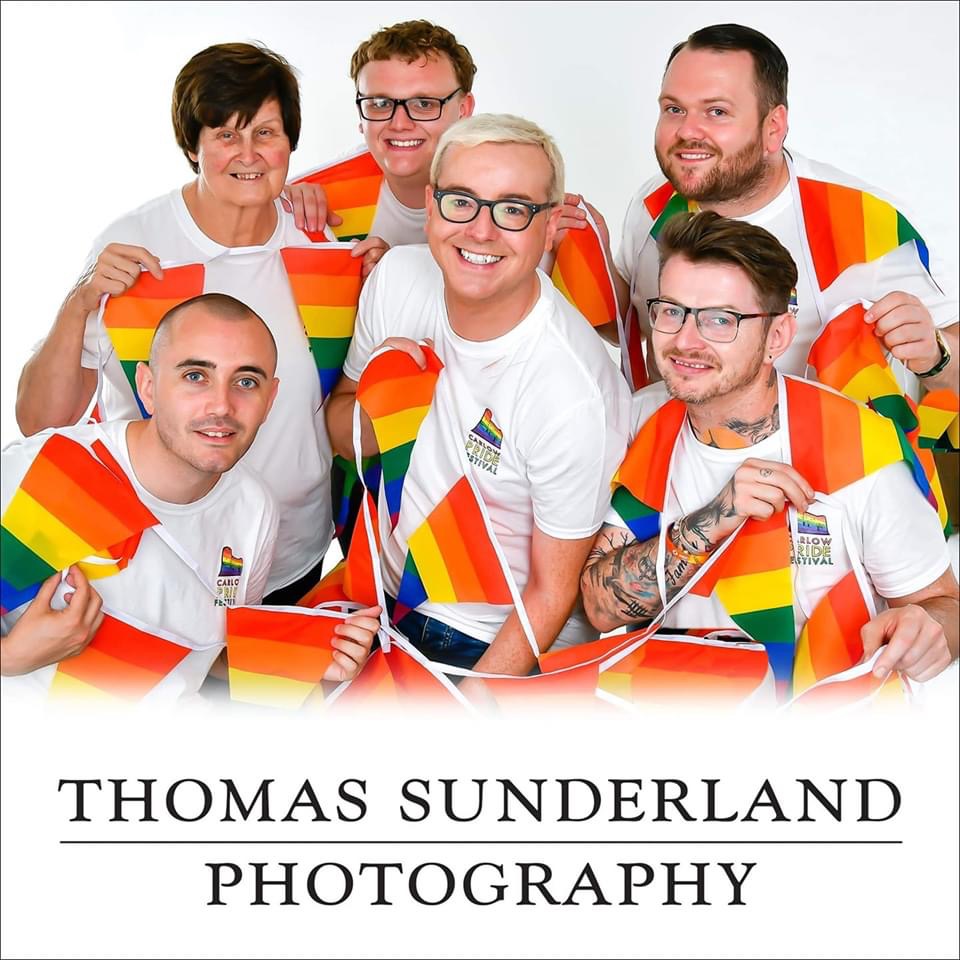 John Paul Payne – Chairperson
John Paul has a long history of LGBT+ advocacy in Ireland and abroad. He has been acting chairperson for the festival since it's inception in 2019. When he worked as a reporter and co-host for a national television show in North America covering all current affairs LGBT+ stories. There he realised that LGBT+ people from Carlow, and rural Ireland, sometimes didn't have a voice.
He flew home in 2015 with a camera crew to document his journey to vote in the Marriage Equality referendum as a two part report.  The first part was for "Be My Yes" campaign in North America for ex-pats who couldn't fly home to vote. He is also the editor of the local LGBT+ magazine The Out Mag.
John Paul works as a makeup artist and has his own studio in Killeshin, Co. Carlow. He launched his own cosmetics line in 2019.
He won the Volunteer Ireland Award for Arts, Culture & Media in 2019.
Tom Brown Lawlor – Policies & Protection Officer
Tom works with young people as a Social Care Worker. He studied in the IT Carlow for four years and have an honours degree in Applied Social Studies. He is an ally of the LGBTQI+ community and a member of the Carlow Pride committee. One of his main roles on the committee is working on our child protection policies, vulnerable adults policies and procedures. He also does the risk assessments in regards to the safe guarding and protection of young people and vulnerable adults at our events.
 He is very proud of the work that the Carlow Pride has done over the last year and he is honoured to be part of it. He joined the Carlow Pride committee as he believe everyone is equal and no one should be discrimated due to their beliefs, race, culture or sexuality. He believes Carlow Pride festival promotes this by bringing everyone in the community together to promote inclusiveness".
Robert O Brien – Treasurer and Grants Officer
Robert O Brien is well known as the manager of the Roadhouse Cafe and have been working there for the last 25 years. Robert is currently the treasurer of Carlow Pride Festival and is responsible for all grant activations, applications and liaising with private and public sector bodies. 
He says it has been a joy to do this work and also a new adventure to go on. Robert is a strong believer if we work together anything is achievable.  Developing a strong working relationship is something he firmly believes in. 
Since March 2020, due to the Covid-19 pandemic – Robert took up new employment as a laboratory assistant and co-ordinator for Enfer Scientific on the Covid-19 support team. This laboratory plays a huge role on the national fight against the virus. 
In July 2020, Robert received an award from Enfer Scientific for he role against the national response to the pandemic. 
Outside of work, Robert loves to travel and workout in his local gym. He most is always found spending quality time with his family and friends.
Sally McDonald – Community Outreach Officer
Born in 1944 and qualified as a PE teacher in 1965. Married Larry Mc Donald, in 1966 and had six children. She now has fifteen wonderful grandchildren!  Sally was a member of Carlow Little Theatre Society and acted in many plays with them.  She was involved in a lot of community work, on a voluntary basis throughout the years. Sally was also a member of CMAC (now Accord) and organised Easter Fun Week, for primary school children, for many years, helped by wonderful volunteers.
Sally was a well known teacher for in the Traveller Training Centre on Cox's Lane for ten years. She was also on both St Leo's College and the Presentation College's Parents Associations and both schools Board of Management.
Sally was also on the Board of Management of St Catherine's Community Services Centre and draws a lot of her experience from working in these roles. She did substitute teaching in various schools which led her to be involved in many successful Carlow Community Games for many years.
Sally is part of our community outreach team, and got involved with the Carlow LGBT group and the Carlow Pride Festival Committee, in 2018. Sally brings her incredible work ethic and her ability to find new ways to create resources to help many people.
Ryan Shannon – Inclusion Officer (He/Him)
Ryan was born are raised in Carlow town. He joined Carlow Pride because he wanted to be part of the change in Carlow, to help make it a more welcoming place for members of the LGBT+ community. Ryan himself identifies as bisexual. His mission is to break down the stigma and barriers that bisexual people face. 
When he is not working with Carlow Pride, Ryan enjoys participating in local theatre groups and playing music. He has recently finished a degree in Applied Social Studies from Carlow College St Patricks and he is looking forward to what the future holds.
Ryan represents Carlow Pride Festival on the committee of the Ireland Pride Network, which is a network of pride organisers from around Ireland currently facilitated by the European Pride Organisers Association. 
Ciaran Rea – Secretary (He/Him)
Ciaran is the secretary of Carlow Pride Festival and also the festivals set list producer. He is well known for working in Carpenters for the pass two and a half years.  Being a part of Carlow Pride Festival has thought him a lot about himself, and he feels in the past year and half he has personally achieved so much in such a sort space of time. 
Ciaran also was co-host along side Irelands Got Talent drag act Robyn Diamonds at Carlow's very first LGBT+ night. At last years Pride, he was the set list producer of the main stage show in the town park. Looking after all of the musicians, on stage talent and working closing with the stage and sound engineers. 
He really looks forward to producing and to organising Carlow Pride Festival in the future!